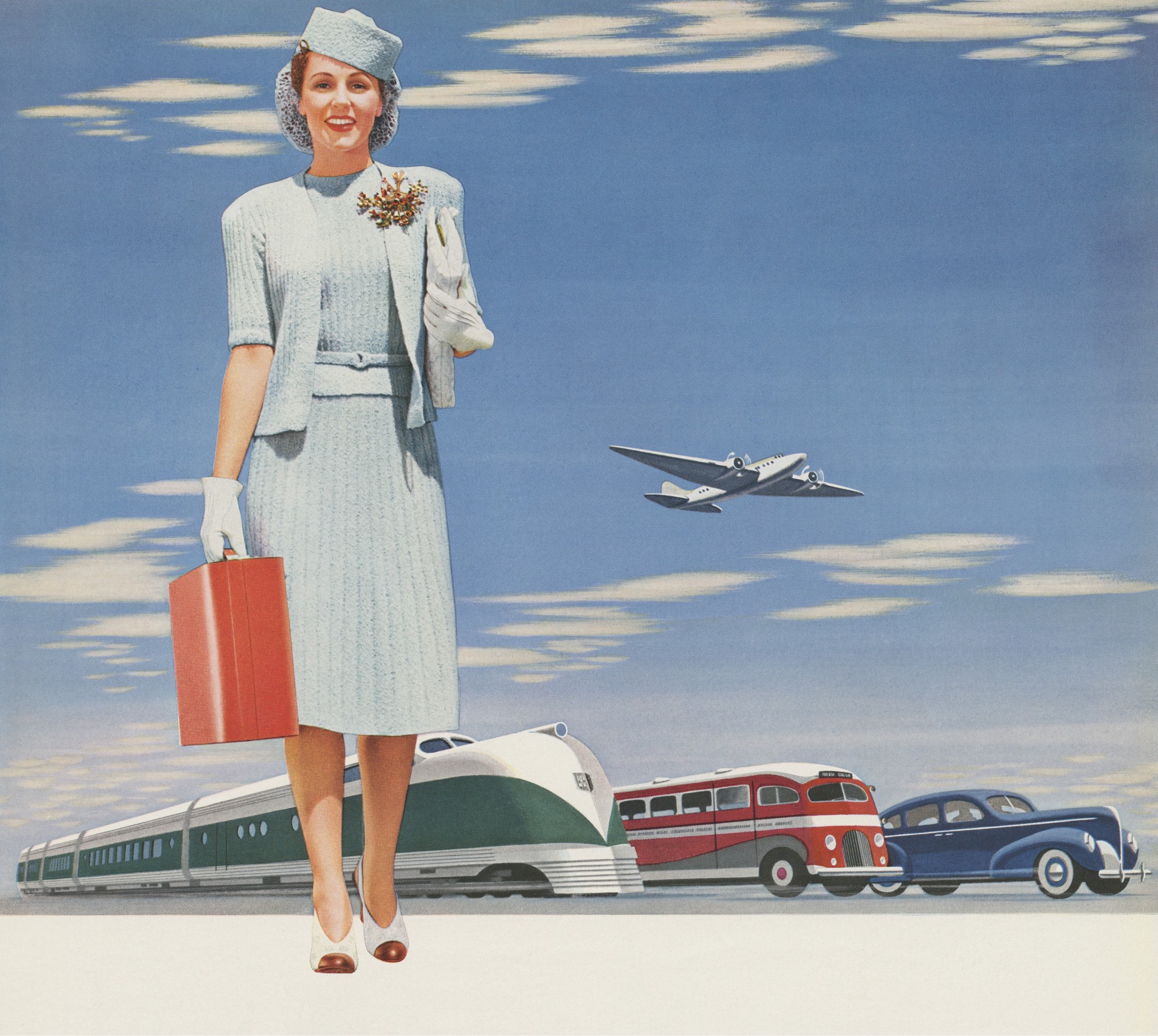 The exhibit brings together about 40 photographs from two of Thomas' series – Unbranded: Reflections in Black by Corporate America and Unbranded: A Century of White Women 1915-2015 – both consisting of advertising images stripped of their original copy text and context.
Thomas worked on Reflections in Black by Corporate America from 2005-2008. He pulls images from advertisements targeted toward African Americans that originally ran from 1968, the year of Martin Luther King, Jr.'s assassination, to 2008, the year Barack Obama was elected president.
A Century of White Women traces the way white women were represented in print advertising images from 1915, five years before they gained the right to vote, to 2015, the year Hillary Clinton announced her campaign for the presidency.
The original source and circumstances of Thomas' images are left ambiguous. Each photo was given its own title, and each title includes the date the advertisement originally ran and the date Thomas "unbranded" it. Other than that, no information is given. There are only three wall texts in the exhibition, which provide broad, explanatory statements about the two series and Thomas' process.
The images are arranged relatively by theme. The first images in Century of White Women arrangement show seemingly independent women embarking on tasks alone. Thomas cheekily titled an image of a woman behind the wheel, "She followed his directions and took a right onto Equal Ave…, 1920/2015," while a woman confidently strutting away from planes, trains and automobiles in the background of an image against an idyllic blue sky is titled "Travel light!, 1940/2015."
On the opposite interior walls, Reflections in Black unfolds. The images show African Americans interacting with their white counterparts in a way that is absent from the advertising images on the other side of the room. In two of the images, a white man is waiting on the African Americans in the image. In "Just for the Taste of It, 1989/2007," a Black couple dines under the Eiffel Tower while being served by a white man; in "Membership Has Its Privileges, 2006/2008," an older white man holds an umbrella in the rain for a young African American boy exiting a car.
The second side of the room features images that use exoticism, orientalization and appropriation, especially in Century of White Women. There are white women dressed as Egyptian pharaohs posing for the camera, women's legs chained together as a man smoking hookah looks on and women in the jungle, one of whom is in a cage next to a man. These images are troubling for their appropriative and sexist content, but also for their banality.
The second half of Reflections in Black also engages with cultural appropriation and interplay. "From the Heart of Africa Comes a Fragrance to Capture the Heart of Every Woman, 1994/2008," shows a white woman and a Black woman, shoulder to shoulder, looking seductively at the camera with an apparent savannah in the background. "Are You the Right Kind of Woman for It?, 1974/2007," shows a Black man flanked by two white women amid palm fronds, relaxing with a cigar in his mouth and legs crossed casually.
The last image, "She's all tied up...in a poor system, 1951/2015," struck me as one of the most impactful and disturbing. It shows a woman in some kind of shirt or straightjacket with her arms constrained, bucked in, seated at a typewriter, yelling in apparent anguish. This is the only image where a woman is in visible pain, but in a way, it seems to speak for the rest of the images.
After absorbing the entire exhibit, the lack of detailed labels or explanation for each image seems very intentional. Without the protection of copy text, the images alone tell some of the darker stories about American life, appetites and cultural norms through the way advertisers thought the American public aspired to see themselves. The way the images are separated from their original context ads an unsettling element.
Both sets of advertisements espouse similar themes – the nuclear American family, heterosexual norms and traditional beauty norms. And in both series, these themes are similarly disturbing. Examining the vignettes as a group reveals how deeply ingrained themes of racism, sexism and white supremacy are to the American psyche. Although the images were poached from a period of many perceived milestones for women and African Americans, they also make it clear that there are still many milestones to go.